So 2016 sucked. Like the amount of animosity I have towards a metaphysical entity of a made up concept is downright ridiculous, but as the worst year ever ends and a new one begins, i will not wallow any more on how much life sucked last year. Instead I return to writing my bullshit opinions about media and what a way to start the new year than writing about the best thing ever.
If you don't know what Steven Universe is then shut yourself off from society for a couple of days, just you, your laptop and a couple of crystal gems BECAUSE YOU WILL BECOME A BETTER PERSON. I started watching SU because it was popular on the internet and i am a slave to popular culture, but it soon became apparent that this was a show for me and people like me and there had not really been a cartoon show for liberal minded young people with a pastel colour palette and musical interludes before. (All of which are my goddamn weaknesses.)
The story follows Steven Universe as he navigates life as a crystal gem, a team of alien heroes defending life on earth. Steven is the half human son of their former leader and is learning how to be a crystal gem. And gosh darn he is adorable.
(Actual dreamboat)
We follow Steven as he learns to control his gem powers with the help of his crystal Gem family, Garnet, Amethyst and Pearl, and his human family, Greg. We see him interact with the people of Beach city and Connie, who is his best friend (and maybe moreeeeeeee) as well as face the ongoing threat of homeworld. I am not going to give you all the lore of the show as I already have several whiteboards full of conspiracies about this show, that would be impossible to explain, but needless to say the world Rebecca Sugar and her team have built is vast and immersive and fascinating.
But the really incredible thing about the show is that they've decided to use that world to teach children important lessons and to demonstrate healthy behaviours and ideologies. While making dumb jokes. TRUE ART.
So these are some of the most important lessons I've learnt from Steven Universe.
HEY, THEY LET YOU MAKE TV SHOWS ABOUT LESBIANS.
Ok so this isn't technically a lesson the show itself taught me, the actual lesson the show taught kids was that it's okay to be gay, which is still pretty impressive and undoubtedly one of the best aspects. But the really amazing thing is that they got away with it? Like do you know how hard children's networks work to block queer narratives in their shows. So hard that when Adventure time wouldn't let Rebecca Sugar make the queer narrative between Marceline and Princess Bubblegum explicit, SHE CREATED A SHOW WHERE EVERYONE IS A LITTLE BIT GAY OUT OF SPITE. Like truly amazing. A show formed by a bisexual woman's need to tell the world to suck it. That is critically acclaimed. Solid life goal. But the best part is that it's enabled so many more shows to branch out, like loads more queer narratives are a possibility that wouldn't have been 5 years ago. So the first lesson Steven taught me is to write whatever I want.
2. You have to do things your own way.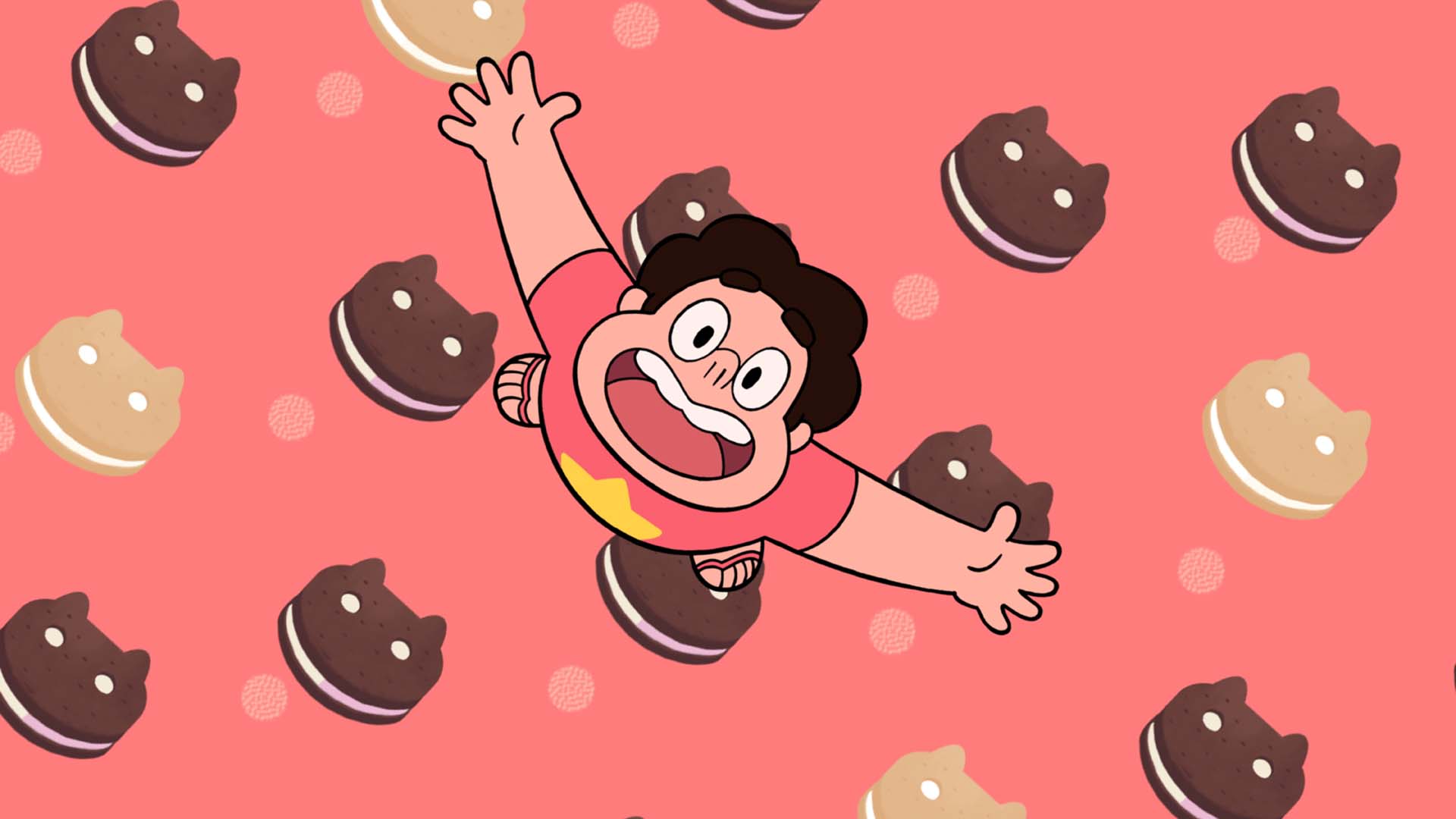 Since episode one it's been made pretty explicit that the only way Steven is going to work is if he does what works for him, and the same goes for every other character. If there was a universal message of Steven Universe it would probably be something along the lines of, Be unapologetically yourself and work hard at it. After all the reason the crystal gems were formed is because some of them didn't fit into the mould set by the homeworld so they started a revolution. Which is an interest idea to keep with you as we head into Trump's America, Be You, Work Hard and Screw the people who try to make you feel anything less than what you are.
Sorry for that turning into an inspirational instagram post.
3. You don't have to be perfect.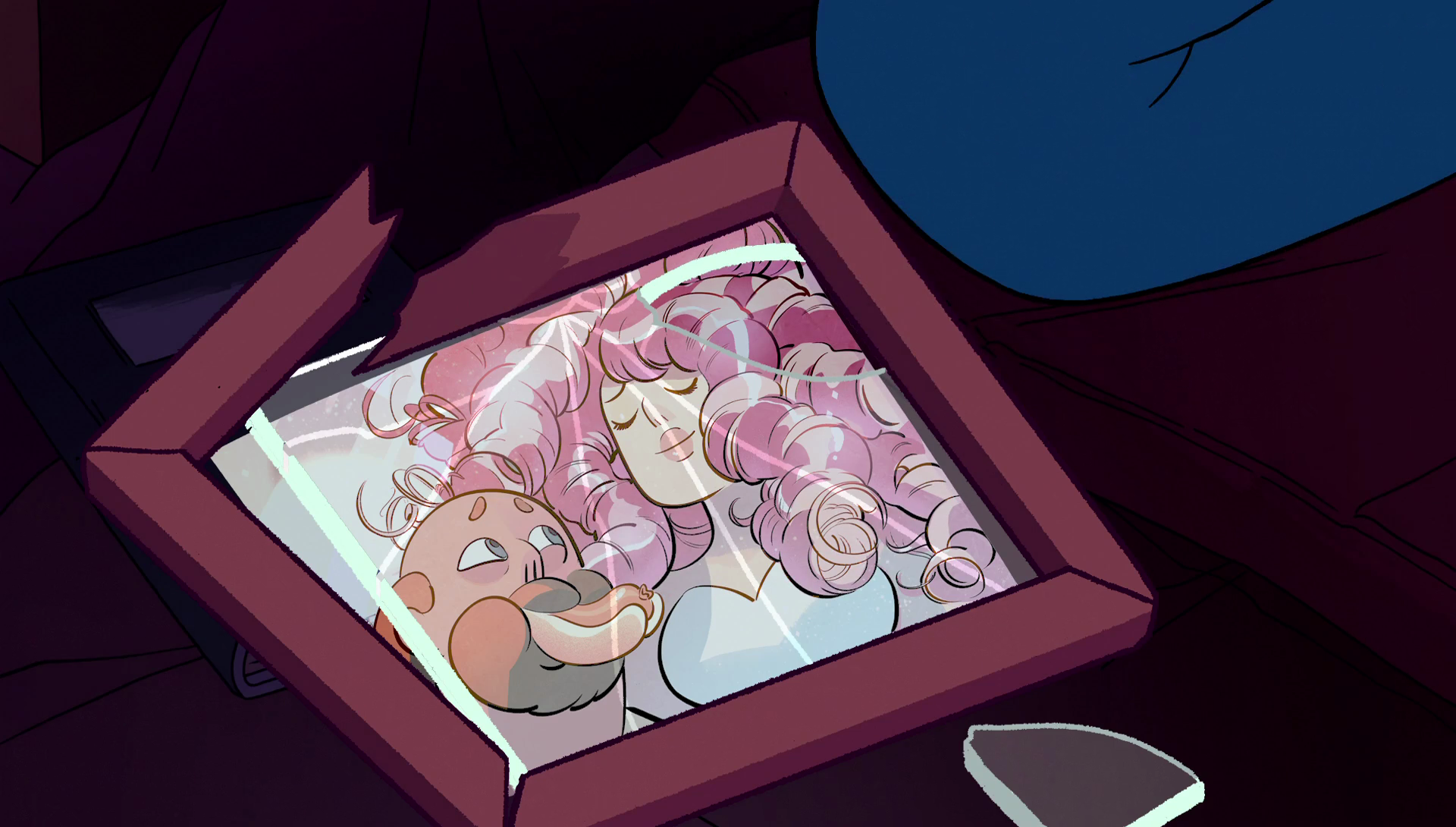 Granted this one is very similar to the last but let us consider the immortal words of Greg Universe,
"If every porkchop were perfect we wouldn't have hot dogs."
As well as teaching you to work in your own way and strive, the show continually teaches us that your flaws do not define you nor do they detract from what makes you great. And as someone who regularly deals with copious amounts of self loathing this is a lesson that I need shoved down my throat at multiple intervals. Character arcs are formed around self acceptance, and that's amazing for a cartoon show, especially when the medium usually deals with hijinks and action sequences and fart jokes. One of those is the worst. And it sure ain't hijinks.
4. Always be kind. Always try to understand. Always greet people with a smile.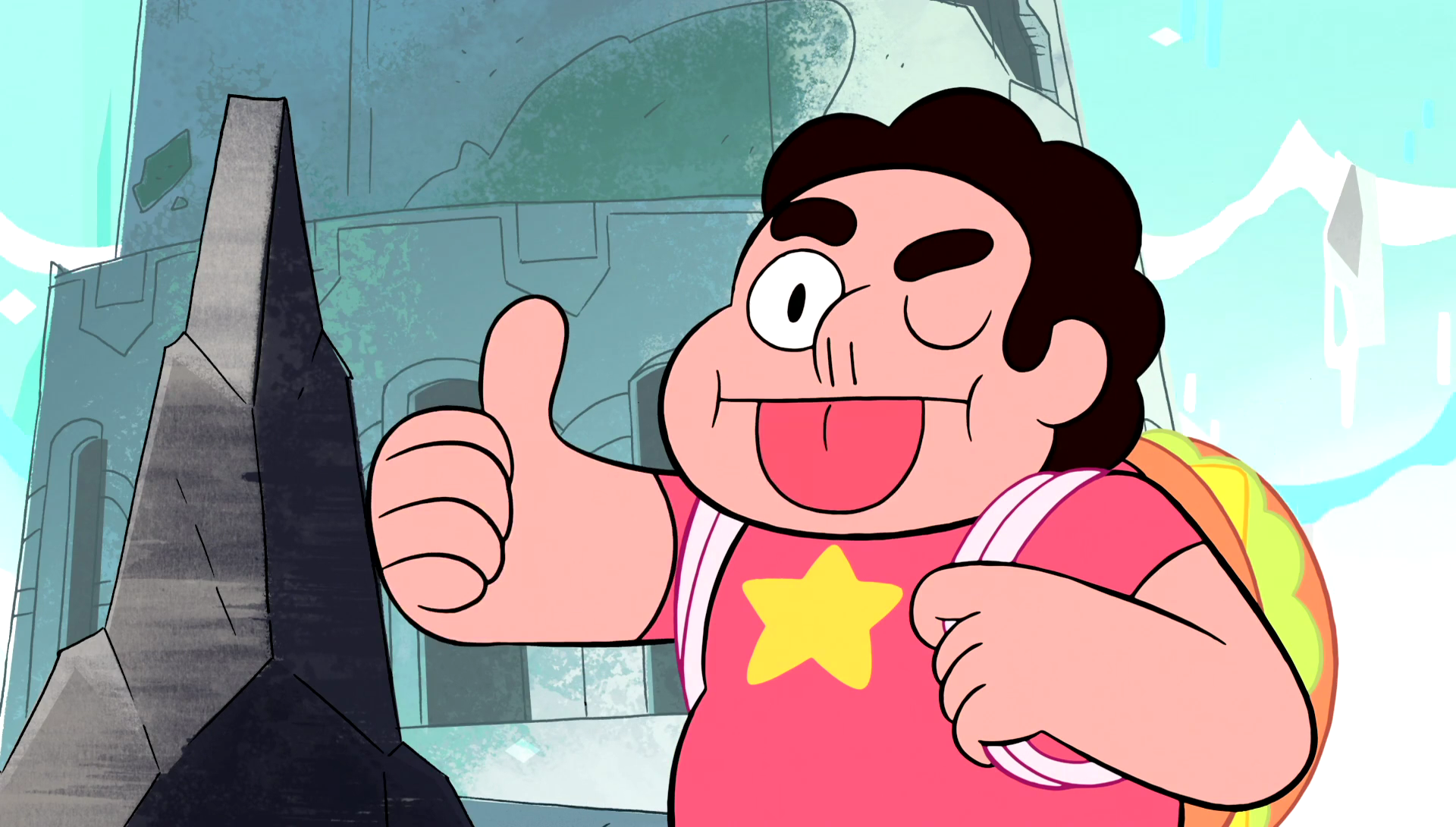 Be kind, be soft and make friends with monsters. Steven is a silly serious show which sometimes cannot understand which kind of tone it wants much like the writer of this article but at it's core it is gentle. Also like this writer. And that's why this show is a good show to watch when you are a little sad and maybe in need of something to tell you there is good, that everyone has some good, including you. Steven is like the best chocolate cake, glass of nice wine and hangover cure rolled into one. It tells us simultaneously to be kind whilst being kind to us with small soft stories. Steven is smol and you should be too. God i love this show.
5. Talk about how you feel and even if its bad.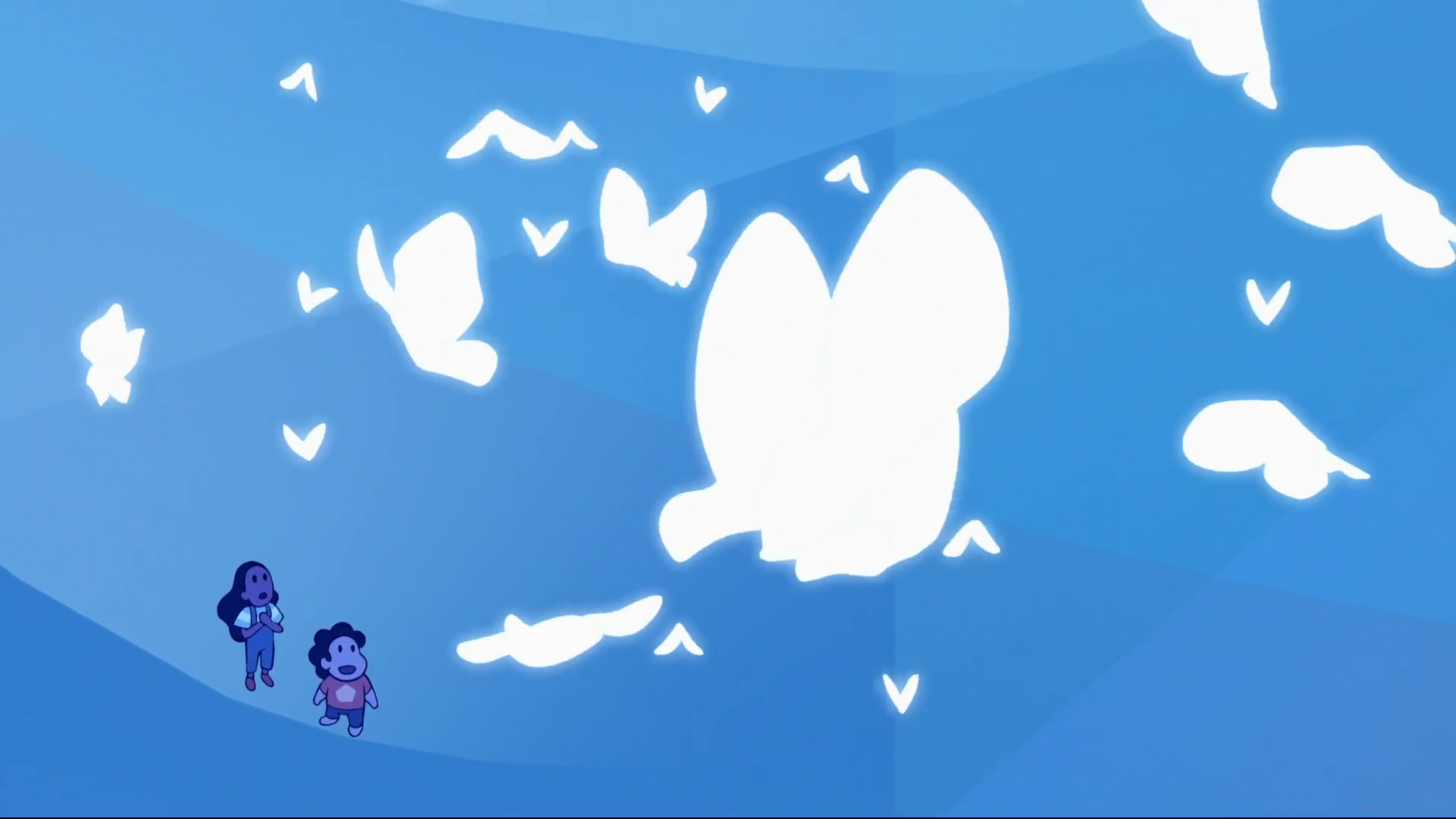 The season four episode "Mindful Education" might not be my favourite episode of Steven Universe, but it is the one I sometimes think about at one a.m when I can't sleep. Because the emotional impact of that episode really just hit. The lesson was simple, talk about how you feel and trust other people, even if what your saying is bad or if you have to admit you did something wrong. Simple, but honestly how many times has that been a message in media? How many times do you see a character say they think that acted badly and not immediately try to defend themselves with skewed morality so they seem like the good guy? looking at you all network crime shows. We never got told to talk about our feelings. Did we ever get told it was okay to feel bad? Or was everything from our childhood this constant stream of be happy, be happy all the time, if you aren't everyone will make fun of you and you will sit in the corner in a grey colour palette. Yes, Yes it was. This episode is a classic example of Steven telling you its okay to feel and it okay to talk but it isn't the only one. And I am so happy that in this quite frankly dark and unsettling time we have things like this telling us to look forward to the future and have hope.
 Steven Universe is a good show, I'll probably end up writing and talking about it more on here, but if there is one thing I can tell you to do this year to make it better, it would be to watch this show.
Also here is a handy picture of fellow twogirlsoneblog writer Liz, as her probably gemsona Pearl. The amount of similarities are startling. (Debate is still ongoing as to whether I am Amethyst or Peridot.)
~Elly